Dog Agility Classes 2017 – High Wycombe, Gerrards Cross, Burnham
Looking for something new to do? Then why not try some 'fun agility' sessions with your dog?
On behalf of Active-In, weekly morning classes will be taking place in High Wycombe, Gerrards Cross and Burnham, Monday – Wednesday, starting on 28th February 2017. Designed with light-hearted fun in mind, these are non-competitive sessions aimed at enhancing your relationship with your dog.
Using a range of equipment including jumps, tunnels and weave poles to help build confidence and trust, your dog will practice using whatever equipment they feel confident with. Through exploration and use of the equipment, we gently increase the challenge on a weekly basis helping them gain confidence with each section of the course. It's a great way to make exercise fun whilst also incorporating basic obedience.
Open to all abilities & dogs, the session will consist of a small area for individuals to practice using specific pieces of equipment, an area with exercises focused on building trust, confidence and handler technique, and finally a complete course for people to run one at a time.
Cost per session is £2 and each session is capped at 15 dogs : 5 per area per time max, spending approx 20 mins on each. It will be important that all dogs are comfortable in the company of other dogs, therefore dogs will have to remain on a lead unless specified. Long training lines are available if needed.
Booking is available online on a week by week basis meaning it's flexible and there's no commitment to an entire course! This will be great fun, places are limited and going fast.
Hazlemere Recreation Ground, High Wycombe.
Tuesdays 9:30 – 10:30am, starting 28th February 2017.
Book here.
West Common, Gerrards Cross.
Wednesdays 9:30 – 10:30am, starting 1st March 2017.
Book here.
George Pitcher Memorial Recreation Ground, Cherry Orchard, Burnham.
Mondays 9:30 – 10:30am, starting 13th March 2017.
Book here.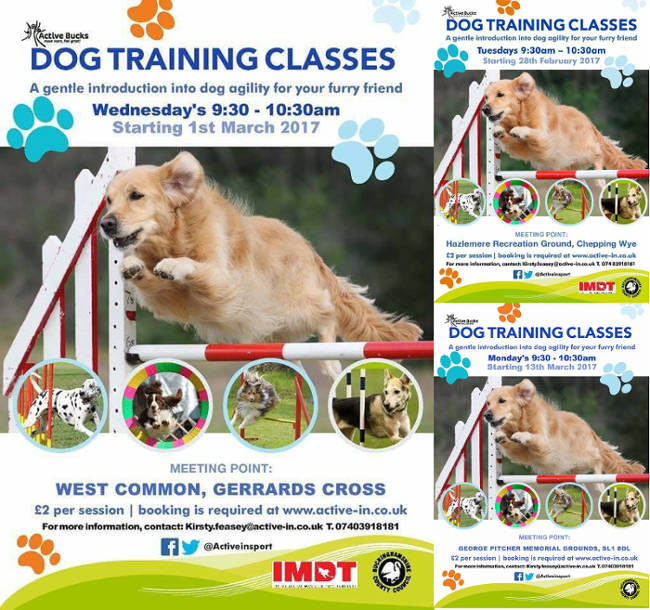 .